Wind Symphony I is composed of the top 45 to 50 musicians in the Fort Mill High School Band. Membership in Wind Symphony I is competitive and members are expected to strive for the highest level of individual excellence. Expectations for members include: studying with a private instructor, auditioning for honor bands, performing in solo recitals and competitions, and performing in chamber ensembles.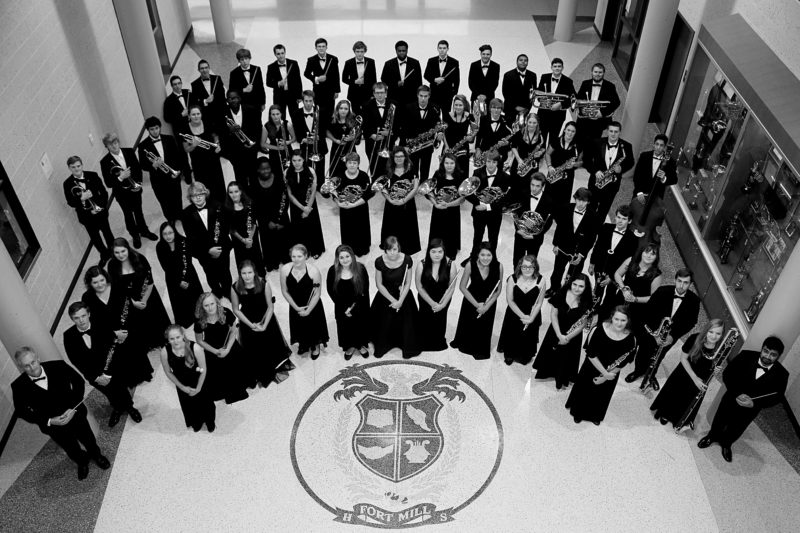 Wind Symphony I performs some of the most demanding literature in the wind band repertoire at the grade 6 level. Consequently, each member is expected to posses the technical and musical ability to handle those demands while contributing to the integrity of the ensemble.
To maintain membership in the Wind Symphony I, members must demonstrate proficiency by passing regular playing tests. The Wind Symphony and Symphonic Bands perform many concerts throughout the year, starting with the annual Christmas Concert. In the spring, the bands perform at the SC Band Directors Association Concert Festival, where they have consistently earned superior ratings. A winter concert precedes the concert festival in March, followed by a chamber music concert and the spring concert in May.
Additional Wind Symphonies include Wind Symphony II and Wind Symphony III.
Concert Archives
2019 – 2020 Concert Series
Updated soon!
2020
Winter Concert
February 11, 2020 – 7PM
FMHS Auditorium
Wind Symphony 2
| | |
| --- | --- |
| Alleluia! Laudamus Te | Alfred Reed |
| "Shepherd's Hey" English Morris Dance | Percy Grainger |
| * Fanfare and Chorale | Jerry Nowak |
| Amparito Roca | Jaime Texidor |
Wind Symphony 1
Eternal Father, Strong to Save
Claude T. Smith
Symphonic Songs for Band
1. Serenade
2. Spiritual
3. Celebration
Robert Russell Bennett
*West Highlands Sojourn
Robert Sheldon
Overture in Five Flat
Julie Giroux
* Sight-reading: perform without previous preparation or study
Sean Carney & Ren Patel, Conductors
Jennifer Hughes, Percussion Director & Jason Ford, Emcee
Work in progress: more concerts will be routinely added.