Ren Patel
Director of Bands
Ren Patel learned his earliest lessons in arranging as Bob Cotter's student in the Gaffney HS Band. He was the principal bassoonist in the Winthrop University Wind Symphony and played tuba in the pep band and tuba choir.
He completed his student teaching at Fort Mill HS in 2011 while earning his B.M.E. at Winthrop. After serving as a band director in Cherokee and Greenville counties, he returned to Fort Mill HS in the summer of 2014.
Mr. Patel is a composer, arranger, performer, and clinician. He is a member of NAFME, SCBDA, and the Society of Music Theory.
In 2017 he became the principal music arranger for the FMHS marching band.
Sean Carney
Associate Director of Bands
A native of Winter Haven, Florida, Mr. Carney earned his B.M.E. at Troy State University in Alabama. He taught in the public schools of Alabama for ten years before moving to USC-Columbia, where he earned his Master's of Music Education and served as a Graduate Assistant with the Carolina Bands. He was the Assistant Director of Bands at Fort Mill HS from 1998-2005, then served as Director of Bands at Gold Hill MS from 2005-19.
Email Mr. Carney
Jason Ford
Individual & Ensemble Visual
Mr. Ford joined the Fort Mill staff in 1988, after four years as a member of the FMHS Band, including serving as Drum Major his senior year. He earned his B.A. in English at Furman University, where he also studied saxophone with Dr. Clifford Leaman and performed with the jazz bands.
Mr. Ford earned an M.A. in English from USC-Columbia and has taught English at Fort Mill High School since 1995. He currently teaches AP English, Film & Fiction, and serves as department chair. He is a long-time Carolina Crown volunteer and currently serves on the corps' Advisory Board.
Email Mr. Ford
Kirk Godbey
Drill Designer & Banks Trail MS Band Director
Mr. Godbey finished his B.M.E at James Madison University in 1986 and joined the Fort Mill staff soon after. From 1987-1999 he was the marching band's principal drill writer; he returned to that role and the marching band staff in 2008.
He has served as a middle school band director at Fort Mill MS, Gold Hill MS, Springfield MS, and now teaches at Banks Trail MS. Mr. Godbey earned his Master's in Music Education and a Master's in Public School Leadership at Winthrop University.
He is an active member of SCBDA, SCMEA, MENC, and the Carolina Crown Advisory Board. Mr. Godbey frequently judges marching and concert bands throughout the southeast.
Jennifer Isenhour
Gold Hill MS Band Director
As a North Carolina Teaching Fellow, Mrs. Isenhour finished her B.M.E. at Appalachian State University in 2004. While establishing the band program at Marvin Ridge MS, Mrs. Isenhour earned her Master of Music degree in Wind Conducting with Dr. Bill Malambri at Winthrop University. From 2012-2017, she served as assistant band director at Bryant MS, where the program encompassed nearly 500 students–over 40% of the student body. In 2019 Mrs. Isenhour joined the Fort Mill HS Band staff and was named Gold Hill MS Band Director.Active as a clinician and adjudicator, Mrs. Isenhour maintains a private lessons studio, as well as playing bassoon and serving on the board of the Carolinas Wind Orchestra. She is a member of the sanctuary choir at St. John's United Methodist Church and also serves as president of the Creative Motion Alliance.
Jennifer Hughes
Percussion Director
After four years as a member of the Fort Mill HS Band, Ms. Hughes started assisting with percussion instruction in 2001 and was named Percussion Director in 2007.
She earned her B.M.E. at Winthrop University and teaches percussion, guitar, and AP Music Theory at Fort Mill HS. Ms. Hughes also directs Fort Mill's winter percussion ensemble.
Doug Presley
Front Ensemble Percussion
Dr. Doug Presley is the Assistant Director of Bands at Winthrop University and an Associate Professor of Music Education. He received his B.A. and M.Ed. from Charleston Southern University, and a Ph.D. in Music Education with a minor in Conducting from the University of North Carolina at Greensboro. He has taught band in the public schools of Hilton Head, Charleston, and Summerville, as well as Newark, Delaware. He and his wife, Brooke, are the parents of four children (Sean, Wade, Bryce, Ella) who attend Fort Mill schools. Dr. Presley, his family, and their dog Max live in Tega Cay.
John Pruitt
Director Emeritus
John Pruitt earned his B.M.E. at East Carolina University (NC) after marching baritone with Spirit of Atlanta in 1983. Upon graduation from ECU, he completed Aviation Officer Candidate School and received his commission into the US Navy, where he trained as a naval flight officer.
In 1992 he began his career as a music educator at McColl Middle School (SC) and later served as band director at Cheraw HS (1996-2007), leading them to the SC AA marching band title in his final year.
Mr. Pruitt was named Director of Bands at Fort Mill HS in 2007. He is an active trombonist, performing with the Carolinas Wind Orchestra, church orchestras, and other ensembles in the greater Charlotte area. He is the father of three (Tim, Sam, Aimee) and became a grandfather in 2013.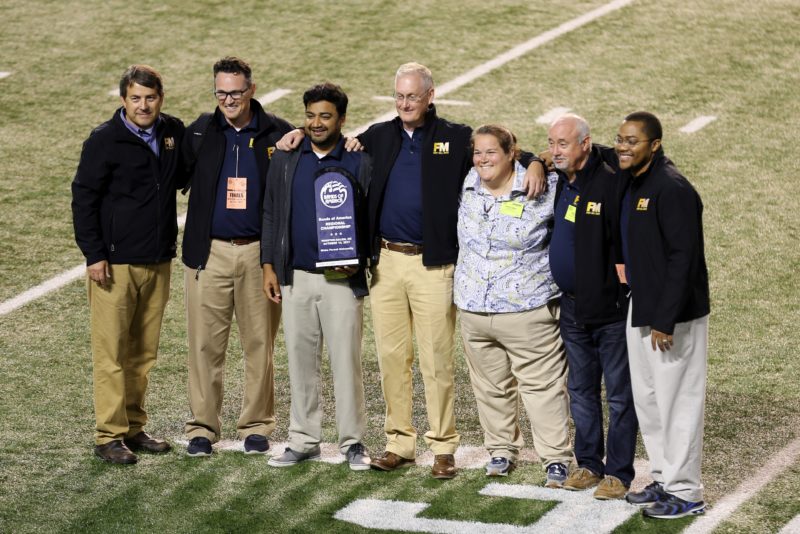 While on medical leave in 2018, Mr. Pruitt fought his way back from heart surgery and multiple strokes. He retired in January 2019, but will continue to volunteer his time and talents as his health allows.